Perfect Furnishings for You
www.perfectfurnishings4u.com
Rich Thick Pile Hand Tufted Wool Area Rugs
in Navajo Inspired Patterns and Classic Southwestern Designs
Take home some Luxury for your floors!
Welcome to our quality selection of Luxurious Southwestern Wool Rugs from Perfect Furnishings For You.

I will help you find the rug styles, colors and sizes you like. These beautiful hand tufted rugs are handmade in traditional Navajo inspired patterns and classic Southwestern patterns in a thick lush pile. These are not cheap imitations, but quality durable hand made wool artisan rugs in striking colors and patterns.

These superb wool hand tufted rugs will add richness and beauty to your home and give many years of enjoyment.

Please feel free to call me and I will help you find the rugs you need. I'm here to help you. May your home be blessed with the joy of walking on comfort and beauty. Namaste, Wendy

Professional cleaning is recommended.

Back to Hand Woven Wool Rugs in Navajo Patterns

Durable Navajo Style Hand Woven Wool Rugs

Please call Wendy at Luminary Expressions Decor:

505-503-7276

for ordering information.

We accept Credit and Debit through Paypal.

PerfectFurnishings4u.com is a division of Luminary Holistics, LLC dba Luminary Expressions Decor
The Thick Pile Hand Tufted Wool Rugs have been discontinued.
This was the last one! It has sold.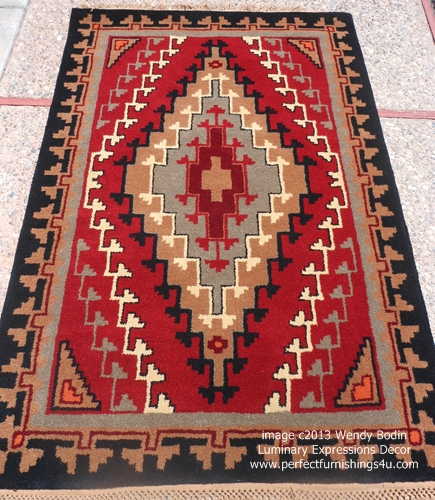 Two Grey Hills Style 9686B in Red
Imported Thick Pile Wool Hand Tufted Rug
Black, Dark Red, Taupe, tan, deep gold, Cream
4' x 6' $365.00 sold!
Call Wendy for availability and shipping quote within continental US
505.503.7276 Email
Albuquerque, NM Mountain Time Zone
PerfectFurnishings4u.com is a division of Luminary Holistics, LLC dba Luminary Expressions Decor

Pay by Credit, Debit through PayPal
Rug Menu
Our rugs are inspected for quality before shipping. Please verify colors, styles and sizes with us prior to ordering.
In stock orders may take approximately 3 to 5 days for delivery depending on destination.
---
Feng Shui and House Blessings
By Wendy Bodin
Ask Wendy how to Receive a Distance Blessing With Your Order
Harmonize and bless your home and businesses with Divine Flow. Allow in the energies of harmony and prosperity.
(505) 503.7276 Visit our links below:
..........Divine Flow Feng Shui for Home and Business
---
Back to Main Menu
* Spanish Colonial Custom Furniture
* Southwestern Spirit Wool Rugs
* Art, Handcrafts, Accessories
* Divine Flow Feng Shui *
Main Menu * Contact Us * About Us * Links
Links for additional resources & information